Simple example of a great call to action
Calls to action are an essential part of getting people to part with their cash.
They come in many forms, from a gentle reminder to follow you on social media or sign-up to your mailing list so you can start to nurture people until they're ready to become customers, to a more direct 'book now'. 
Sometimes we make things more complicated than they need to be. I was reminded of this yesterday when a letter arrived: a genius example of simplicity hitting the mark. 
The writer has my email address but they'd chosen to send out a quick mailing - it grabbed my attention because letters have become rarer. 
Inside was a leaflet about the Courtyard Dairy and their cheese mail-order service, including their monthly cheese box subscription. I've often ordered from them. I haven't ordered recently. Not for any particular reason. I just needed a reminder to order again. 
This is the power of mailings, whether by post or email. We all need reminders to do things. 
Attached to the leaflet was a simple hand-written post it note. The message could not have been simpler.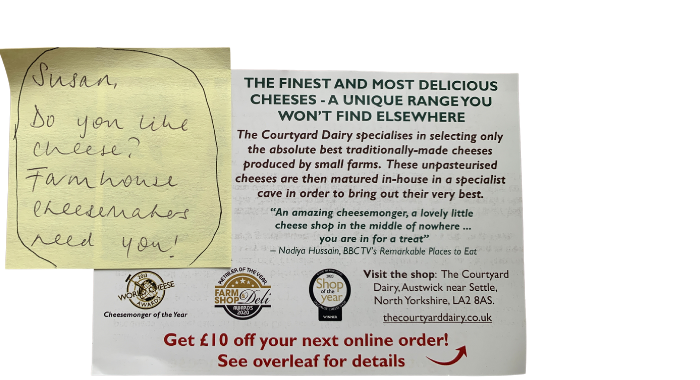 First of all, an attention-grabbing question to which they know the answer is 'yes'. A 'yes' question makes the reader continue to read
Then a simple call to action that's a little emotional, without over-doing it. Genius! 
They know I've already ordered from them, so know I like to support small independent cheese-makers because that's what their business is all about. Andy and Cathy Swinscoe's Courtyard Dairy business is strong because they do that one thing really well. 
If you read the information on the accompanying leaflet you'll see they also do several things that I keep nagging you to do! They work!
1. Clear description of what they offer
2. Explain why they're different & better
3. A reassuring endorsement, followed by other accolades & awards
4. Another call to action with shop details & website & incentive
I wrote this blog because I think this is such a good example of great simple marketing, but since you're reading it, you might like to also take a look at Courtyard Dairy because they're a brilliant business, lovely people and sell extraordinarily good cheese from committed and hard-working cheese-makers, supporting some equally hard-working small farmers.